I understand that your dog is part of your family, and as such, you want to know about the accommodations where your dog will be staying during her or his visit.  My house has been modified to meet the needs my former solo dog, Sagan, who was dog-reactive and who had increasing mobility issues as she aged.
Amenities include:
Front-Door Airlock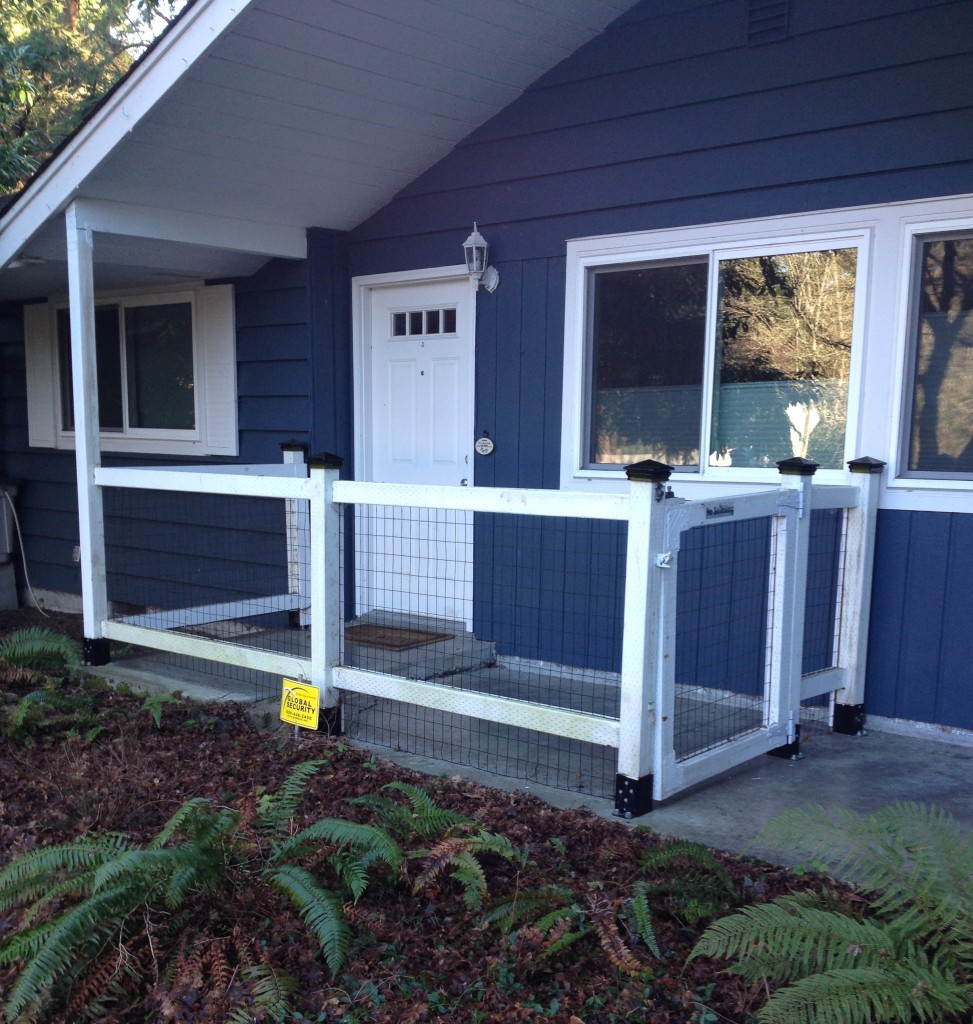 I constructed my own front-door airlock, that serves three purposes.
First it prevents accidental escapes from the house. We two-leggeds are no match for a bolting dog determined to get past you.
Secondly, my gate has a lock with a remote doorbell, that prevents visitors (and unwelcome solicitors) from coming up to my front door and surprising me.
Thirdly, it makes coming and going from the house so much less stressful, because if there is another dog walking by, I know that the airlock will provide a barrier in the event that someone (and we all know this has happens) drops their leash and their "friendly" dog comes barreling towards you.
I've constructed airlocks on all three homes that I've owned in Seattle, and once you've lived in a house with one, it's hard to give it up. No more anxiety about opening the front door and praying there's not a squirrel right outside!
Heavenly (and Secure) Back Yard
My home is on a beautiful quarter-acre lot in a very quiet, peaceful, and heavily treed (i.e. lots of squirrels!) neighborhood.
The backyard is secure and fully fenced with a mixture of 6 ft wood and wood/chain link on all sides with padlocked gates. It is completely private – no other dogs walking by means no "fence-fighting".
It is primarily flat with one gently sloping area that offers some variety in the terrain, but is not difficult to manage, even for dogs with mobility issues. Plenty of room to roam, investigate smells, chase squirrels, or take a sun bath!
The backyard is accessible via a sliding glass door. I have a doggie-door insert, which allows ultimate freedom of movement into and out of the home. Don't worry if your dog doesn't know how to use a doggie-door, I can easily teach them.
A large window in my home office faces the yard, so I can keep an eye on backyard activity, or lack of activity, as the case may be during a late afternoon summer sun bath.
Fully Enclosed Locked Dog Run
I built a custom, fully enclosed (with a top) 10 ft x 6 ft dog run that's accessible via a doggie door. The dog run is locked and bolted to the side of my house. This allows for limited backyard access in times where a dog needs to use the "bathroom" but has to have it close by.
It's very useful for puppies and older dogs who may need frequent potty breaks when I am out of the house. It's also very handy for those times when a dog has an upset stomach and needs to get to the grass FAST!
I understand that some clients may want their dogs to have access to this dog run 24/7, while others may want their dogs to have access only when I'm away, while others do not want their dogs to have access at all. When you schedule your Meet & Greet we'll tour this area and can discuss the different configurations that are possible.
State of the Art Video Monitoring
I know from personal experience how dog owners with "special needs" dogs worry about them when they are separated. Have a computer or smart phone and want to know what  your dog is up to while they are under my care? Problem solved!
My house has a NetGear VueZone video monitoring system that can be configured to let guests view up to three live cameras. Live streaming video can be viewed from the web, or from a mobile phone, via an free VueZone app (iPhone and Android).
When my guest dogs are left in my house, whether crated, in the dog run access room, or in the house – my video system texts my phone if it detects motion, and records video! This enables me to keep an close watch on dogs under my care when I am away from the home and allows my human clients to check in on their four-legged family members anytime they wish. It only takes 15-20 minutes to configure a client's smart phone to work with my home monitoring system and is totally free, but the peace of mind is priceless.
One-Story Living Space with Non-Slip Floor Coverings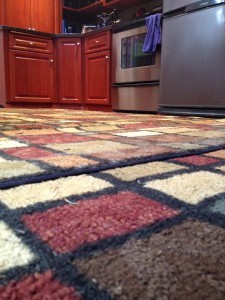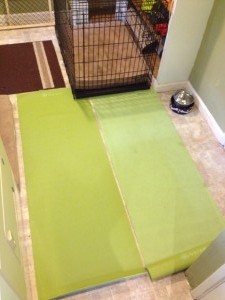 Dogs with mobility issues often have great difficulty walking on slippery surfaces, such as bare wood floors, tile, or navigating stairs. The living area of my home is all one level, perfect for elderly dogs, or dogs who are rehabilitating from an injury/illness that impacts their ability to navigate their environment safely.
I use area rugs over wood floors, and yoga mats over linoleum, to provide traction, and wash-a-bility. I've got extra large crates, baby gates, and exercise pens, and can limit a dog's access to certain areas of the house or spaces if you are following a conservative management approach to treating orthopedic issues.
My solo dog, Sagan, had a torn knee ligament, episodes of vestibular disease, and neurological issues which affected her balance, and so my home is set up to make it easy for dogs with mobility issues to get around safely and without slipping or falling.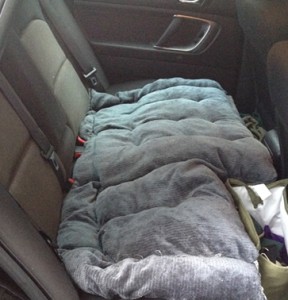 Transportation in Comfort
Complementary pick-up and drop-off may be available depending on the length of your dog's stay and the location of the dog. The backseat of my car has been converted to a very comfortable place to ride around in and take a nap. All dogs must wear seat belts (provided by me) during transport.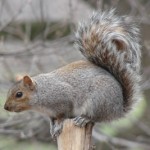 Squirrels!!!!!
I have bird feeders and a bird bath that attract lots and lots of squirrels. Dogs can relax and watch "backyard TV" from my kitchen sliding glass door, or romp outside. Both dogs and squirrels get mental stimulation and exercise!  🙂